'frozen' waterfall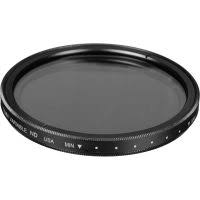 Only 7mm thickness, Wide-angle lens compatible ultra thin frame

With Zomei Variable Density Neutral Gray filters, users can select the intensity from ND2 (1 f-stop) to ND400 (8+ f-stops) by rotating the front ring

Glass mounted with high pressure press technology

Original AGC Optical Glass from Japan

All Materials Used in this filter Meet the Requirements of European Union's standards of Environment Protection-ROHS(Restrictions on Hazardous Substances)

By rotating the end of the lens you are able to control the amount of light (between +1 and +8 stop values) that enters the lens. Foe example, f/4 instead of f/8 for selective sharpness instead of great depth of field, or 1/15s instead of 1/60s for a smooth, blurred water effect instead of a 'frozen' waterfall.

Color Shift?

The color of the image may vary between warm and cold. This is a common phenomenon of all variable ND filters. You need to as just your white balance accordingly when set the ND filter to different ranges.
Showing the single result