where to buy Rode Video Mic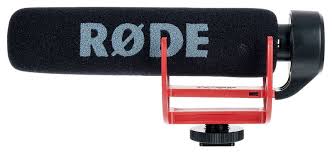 Product description

Sturdy and ultra-light ABS housing
1/2″ Condenser capsule
It is powered via the microphone input of the camera (330uA @ 2.5V)
Integrated Rycote Lyre shock mount
Pre-assembled foam windscreen
3.5 mm TRS jack output (dual mono)
Standard hot shoe adapter with 3/8″ thread
Characteristics: Super-cardioid
Internal-noise: 34 dBA
Maximum SPL: 120 dB SPL (@ 1 kHz, 1% THD into 1 kOhm)
Sensitivity: -35 DB re 1 Volt/Pascal (17.8 mV @ 94 dB SPL) +/- 2 dB @ 1 kHz
Dimensions: 167 x 79 x 70 mm
Weight: 73 g
Incl. 20 cm spiral cable connection

Directional On-Camera Microphone

The RODE VideoMic is a professional grade 1/2 inch condenser shotgun microphone designed for use with consumer video cameras and personal audio recorders. The VideoMic CPK Package includes the VideoMic along with various accessories: Windshield, Boom Pole, Microphone screw adaptor, and 25 feet. Headphone extension cable.

The integrated Rycote Lyre based shock mounting system isolates the VideoMic capsule and electronics from its all-metal shoe mount, providing isolation from external physical factors that may cause unwanted rumble and vibrations in the microphone. Constructed from a single piece of hard-wearing thermoplastic, the Lyre provides high quality acoustic suspension and will never wear out, sag or snap.

Its standard sized shoe mount also includes a 3/8 inch thread in the base for easy mounting on a boom pole or stand. By employing a super-cardioid polar pattern, the VideoMic becomes highly directional, focusing on the subject in front of the camera, and minimizing any surrounding sounds.

In addition to the microphone's native 40Hz-20kHz response, a selectable high-pass filter at 80Hz is available, which will prevent low end noise such as air conditioners and traffic from being recorded. A -10dB and -20dB level attenuation (or PAD), selectable from inside the battery compartment, allows recording of loud sound sources, such as live music or motorsport.
Showing the single result